Weight Management Items
---
Yes, You Can!
If your weight management program has as many failure points as successes, you are not alone. But now you can get off that diet roller-coaster! Nutrition Net can help - a complete line of nutritious, convenient weight management tools, not just one, to give your weight-loss program every advantage.
Just Spend Two Meals a Day With Us...
Two meals each day, either SlenderAge or Nutri-Cookie - they're delicious and convenient. For example, try one of our four delicious flavors of Nutri-Cookie for breakfast. This scientifically-designed, fiber rich cookie keeps you feeling satisfied. Later in the day, mix SlenderAge high-protein mix with water or our Whey-To-Go whey beverage for a nutritious and satisfying lunch or snack. Vitamin-packed SlenderAge is full of essential proteins and amino acids in a natural balance to keep you going throughout the day. Eat a balanced, sensible meal for dinner - one 4-oz. serving of protein, a serving of bread, pasta or rice, a fruit, a fat, and at least three vegatables. That's all there is to it!
---
SlenderAge Nutrient Drink
If you're looking for a nutrient drink to help you lower your weight, aid to maintain your weight, or build the foundation for a more nutritious eating program, SlenderAge is your obvious choice.
Three servings of SlenderAge Nutrient Drink contain essential proteins, vitamins, minerals and amino acids in natural balance. And SlenderAge contains CITRIN, a revolutionary new ingredient that can help your weight management program be a success. Mixes with water or whey beverage to a smooth, creamy texture.
SlenderAge Nutrient Drink Premium Chocolate Fudge

Item 07001 (19.5 oz.) $21.00

SlenderAge Nutrient Drink Premium French Vanilla

Item 07002 (19.5 oz.) $21.00
---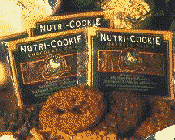 The Nutri-Cookie...The Diet Wonder!
Rich in fiber low in fat and only about 200 calories, the four to five grams of protein in every Nutri-Cookie is amino-acid balanced, meaning that all eight amino acids are present, so the body can utilize all the protein goodness in each cookie.
Each Nutri-Cookie also contains 6 to 8 grams of fiber of a type which supports the friendly bacteria in the colon; 40 to 41 grams of complex carbo-hydrates, natural sweeteners and 6.7 grams of fat from expeller-pressed canola oil. The carbohydrates in the cookie are obtained from our Nutri-Blend Amino-Acid Balanced Flour, which has its own nut-like sweetness. Natural sugars like honey, raisin juice, and Nutri-Cane, the natural, unrefined dehydrated juice of sugar cane, make Nutri-Cookie Exceptionally delicious, while naturally satisfying your hunger. And co-factors in Nutri-Cane help the body to metabolize the sugars while retaining vital vitamins and minerals. Scientifically designed, absolutely delicious!
Oatmeal Raisin Nutri-Cookie

Item 08023 (45 cookies per box) $72.00

Chocolate Chocolate Chip Nutri-Cookie

Item 08024 (45 cookies per box) $72.00

Peanut Butter Nutri-Cookie

Item 08022 (45 cookies per box) $72.00

Fruit & Nut Nutri-Cookie

Item 08033 (45 cookies per box) $72.00

Mixed Nutri-Cookie Case

11 ea. Chocolate Chocolate Chip, Fruit & Nut, Peanut Butte, 12 Oatmeal Raisin

Item 08034 (45 cookies per box) $72.00
---
As Seen On TV!
Now you can learn to modify your eating habits - you can learn to eat less for life! The answe to your dieting dilemma could be right at the end of your nose!
For years, the effect of odors has been topic of research at centers and universities around the world. Researchers at Yale's Psychophysiology Center, the University of Cincinnati and the Chicago Smell and Taste Treatment and Research Foundation, for example, are studying smell. The ThinPen technology applies this type of research to weight control. When used as part of a sensible diet and exercise program, the ThinPen is designed to help support your weight management efforts.
The ThinPen concept is brilliantly simple: Each set of ThinPens contains three color-coded aroma "pens," each with a special aroma. Use these pens in rotation, one each day for thirty days. Carry one with you today (say, the green one), and tomorow use another (the tan or maroon), Use your ThinPen about 15 minutes before each meal, or whenever you feel hungry.
How much weight will you lose? It depends on you. When used as a part of a sensible and healthy program of diet and exercise, the ThinPen can help you better achieve your weight loss goals.
The ThinPen

Item 17900 $31.95
---
LeanLife
LeanLife is a unique formulation of herbs that, individually, have been used for centuries for their ability to help naturally balance the body. Now they're teamed together with Chromium Nicotinate and Chromium Picolinate, the finest Chromium supplements on the market today. A wonderfull weight management tool that preforms without the "buzz" associated with over-the-counter diet aids. With the power of Chromium and CITRIN.

LeanLife

Item 06020 (180 capsules) $26.95

LeanLife Sample Canister

Get your friends to try LeanLife with these handy sample packets. Promotional literature provides great great introduction to this exciting weight management tool. Also handy for purse or pocket.

LeanLife Sample Canister

Item 06021 (60 three-capsule packets with literature) $32.50
---
Homeopathic Weight Control
Formulated to assist individuals with the tendency toward being overweight, Homeopathic Weight Control Tablets contain no caffeine, sugar or other stimulants, and are completely non-toxic and non-habit-forming. They will help you to eat less, so you can lose weight safely and can look and feel better without side effects.

Homeopathic Weight Control

Item 07006 (180 tablets) $12.50
---
---
Please send me back to the main menu.
Please send me back to the Food & Weight Management Menu Page.