The Nutrition For Life Opportunity
---
Watch Your Business and Your Earnings Grow:
When you become a Nutrition For Life Distributor, you move into the Personal Group of your sponsor. The personal group is a place for you to learn the business, to learn about our product line and to begin to form a Personal Group of your own. Everyone you personally introduce to the Nurtition For Life opportunity and sponsor will become a part of your own Personal Group.
The Personal Group is very important to your business. It can offer you the monthly capital every business needs. As an Executive, you can earn 40-45% on the bonus volume of your personal group each month through our Personal Group Bonus! And your Personal Group can help you qualify for Executive status, where the opportunity (and the fun) really begins!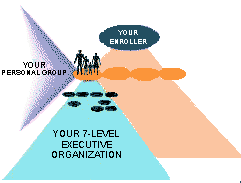 When your cumulative personal group volume (coupled with your own personal volume) reaches $1,500, you become an Executive (see also the Trudeau Marketing Group for a quicker way!) As an Executive, you move into the 7-Level Executive Organization of your Sponsor, and begin to build an Organization of your own. When members of your Personal Group qualify for Executive, they will move into your 7-Level Executive Organization. This builds the long-term, residual income that can bring you financial security for years to come. And as your downline grows, you qualify for higher bonuses - up to 18% at some levels! And there's more...
You can qualify for a Brand New Car in as little as six months! The Nutrition For Life Car Bonus Program is just one of the ways you can be rewarded for building a strong, productive organization!
As you continue to advance, you can earn an additional 2% over-ride on the volume generated by your personally sponsored distributors on all levels. We call this the Platinum Executive Bonus, and it's only one of the bonuses that are designed to offer you an exciting potential for personal prosperity.
The Stability of a Proven Leader.
Over 250 Exceptional Products.
The Most Competitive Compensation Plan in the industry.
This is the opportunity you've been looking for.
This is Nutrition For Life.
---
More cool information on:
Call us at (210) 497-7869 ask for Sam, or E-mail us at wdct777@aol.com for more information!